Our suggestions
Selection for the weeks May 4 - 18, 2018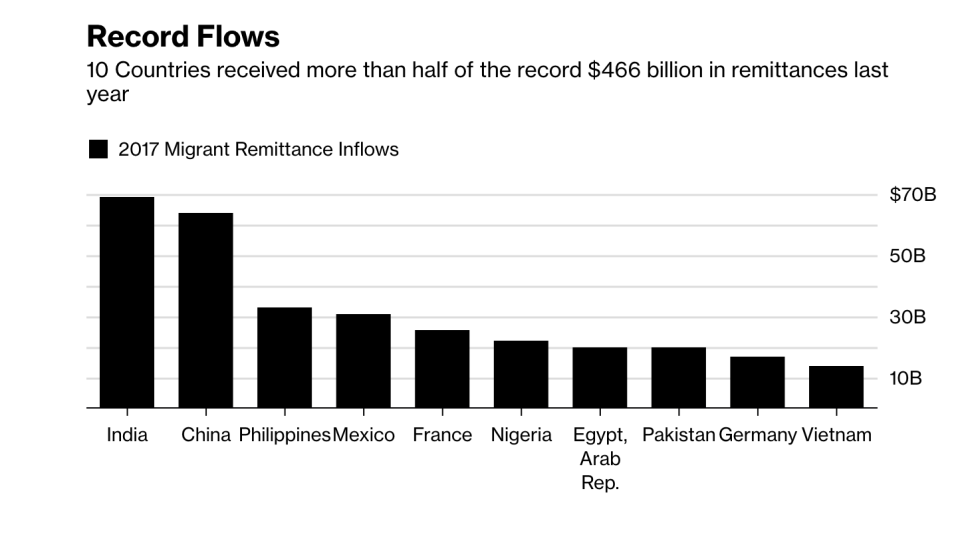 Today's selection includes articles about migration from the World Bank, The United Nation Population Fund, IOM and TED. Each one handpicked by us for you.
Migrants Sent Record $466 Billion Home in 2017: World Bank
The world's 266 million migrant workers sent a record $466 billion to developing countries last year following two consecutive declines and the money bound for home this year is projected to increase to $485 billion, according to the World Bank. The countries with the largest inflows in 2017 were India with $69 billion, China at $64 billion, the Philippines $33 billion and Mexico $31 billion. Find out more about these data.
Five reasons migration is a feminist issue
An estimated one billion people around the world are migrants – one in every seven people. But as policymakers scramble to understand how these mass movements affect societies, economies, security, and sustainability, the needs of women and girls are falling through the cracks. Explore these five reasons migration is a serious concern for women and girls.
Six ways to protect migrants on the Central Mediterranean route
Since the start of this year, IOM, the UN Migration Agency, has helped around 4,000 migrants -- the same ones languishing in detention centers, typically survivors of harrowing voyages at sea -- return home to more than two dozen countries. That is in addition to the 19,370 men, women and children IOM flew safely home from Libya last year. There's a long way to go in Libya, and much we still need to do. At this link, you can find a list of six concrete actions that need to urgently happen to better protect more migrants on the Central Mediterranean route.
Syrian Refugees Turn to Journalism to Report on Their World
In her final semester at Northeastern University, Maggie Quick created an online citizen journalism class for the nonprofit Paper Airplanes that would give 10 young adults affected by the violence in Syria the tools to share their singular stories and perspectives with the world. Here's her story.
How can countries help refugees while also raising their GDP? Let them work.
Refugees have made a positive economic contribution to Uganda's economy. Some striking statistics: in Kampala, 21 percent of refugees run a business that creates jobs, and of their employees, 40 percent are Ugandans. In other words, refugees are making jobs not just for one another but also for the citizens of their host country.